Balance bikes for kids are a great way for children to learn how to balance on a bike before they ever attempt to ride a big kid bike.  A balance bike offers your child the opportunity to learn how to balance and steer without adding peddling to the mix.  
Balance bikes are VERY popular in terms of helping children master the skills they need in order to ride a two-wheeled bike when they get older. 

It allows them to coordinate between balancing and steering as they begin to master these two skills.

Once your child learns how to steer and gains confidence and control of their bike, he or she will be able to lift up their feet and cruise along while balancing on their bike.  The seats on these bikes are adjustable to accommodate your child's height and comfort level.
Once your child has accomplished those two skills they will be ready to transition to a pedal bike with confidence.  This type of bike also eliminates the need for training wheels as your child will have mastered the art of balancing on a balance bike.

The nice thing about these types of bikes is they are designed to grow with your child.  The frames on these bikes are lightweight allowing a child to ride and stride with great ease. 
If your toddler is eager to learn how to ride a bike and wants to get out there, then a balance bike will offer him or her the opportunity to learn how to balance and steer while having FUN and gaining confidence.
If you are in a hurry…
==>> See a Selection of Balance Bikes For Kids Here >>
On this page, we have reviewed some of the more popular and sought after brands that both parents and kids LOVE. 
Read the reviews below to help you decide which balance bike would be right for your child.

Retrospec Cub Kids Balance Bike No Pedal Bicycle
 
The Retrospec Cub Kids Balance Bike No Pedal bicycle is designed for new cyclists 20 months to 5 years of age.  This bike's no-pedal form bears a kid-friendly step-thru frame so your little one can easily hop on and off their new bike.
Cub balance bike helps your tiny cyclist learn without the training wheels. With less distance between their feet and the ground, kids are able to better control their speed, avoid nasty falls, and minimize the chance of getting hurt. Keep 'em riding with air-free tires, making tube replacements a thing of the past
The handlebars and seat of this no-pedal bike are adjustable as your child grows. Balance bike riders quickly learn how to glide, coast, and stop without developing a false center of gravity frequently experienced in other beginner bikes.
This balance bike is lightweight in construction with air-free tires that won't deflate.  
Where To Buy:  Walmart
Radio Flyer, Glide & Go Balance Bike, 11″ Wheels, Pink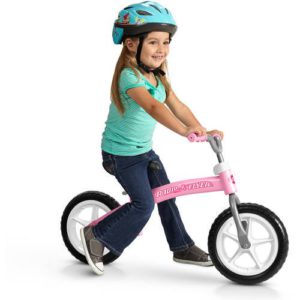 This balance bike for kids is a pedal-free beginners bike which allows kids to focus on balance ultimately  preparing them for a two-wheeler in no time.  Avoid wobbly and frustrating training wheels altogether!
The Glide & Go Balance Bike® features Traction Tread tires that hug the road with a lightweight sturdy steel frame for durability.
The comfort seat adjusts to grow with your child and the ringing bell offers additional fun.  Maximum weight capacity 50 lbs.  For ages 2 ½ – 5 years.

Colors Available:  Pink as shown or Red
Where To Buy:  Walmart
Whirl BalanceSCOOTER, Pink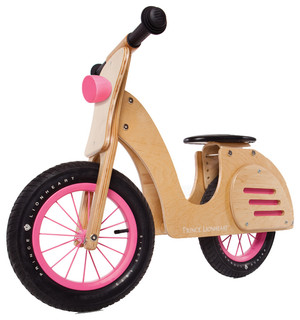 Prince Lionheart's award winning Whirl balanceSCOOTER in Pink will teach your child balance and coordination which are crucial skills that are necessary before transitioning to a two-wheeled pedal bicycle.
Your child's sense of independence and self-confidence will develop and become apparent as they learn to balance and steer at their own pace.  First by walking with their balance bike and then graduating to gliding while having FUN.
This balance scooter is a great transition from ride on toys to a balance bike.  The frame of this bike is made from birch and the seat is adjustable.  The handgrips are made of solid rubber as well as the 12″ tires.  This balance scooter will help your child master balance, steering and coordination in preparation to ride a two-wheeled pedal bike in the future.
Where To Buy:   Houzz.com
Schwinn Skip 4 12″ Kids' Balance Bike
The Schwinn Skip 4 Kids' Balance Bike features a light premium diamond steel frame that is low enough for a child's foot to rest on the ground.
12″ air-filled tires and spoked wheels come with colored rims.  An alloy handlebar and stem keeps your little one in control, and a tool-free adjustable seat post lets them grow with the bike.
The Skip 4 comes with a limited lifetime warranty for as long as you own it!  Enjoy the freedom of riding a Schwinn.
This Manufacturer's suggested age for this bike is 2.5 to 5 years old. This bike is available in two different colors:  Green & Black or Purple.
I have also included a video with step-by-step guidelines for teaching your toddler how to cycle on a balance bike from Cycling UK (formerly CTC), the national cycling charity in the UK.
Save
Save
Save
Save
Save
Save
Save
Save
Save
Save
Save
Save
Save
Save
Save
Save
Save
Save
Save
Save
Save
Save
Save
Save
Save
Save
Save
Save
Save
Save
Save
Save
Save
Save
Save
Save
Save
Save
Save
Save