Are you looking for some Christmas gift ideas for your toddler or preschooler this holiday season?  With SO many options available, it is hard to decide which toy would provide your child with the MOST enjoyment as well as keep your child engaged and actively learning.
We have found some popular toys for this holiday season that are both FUN and educational for toddlers and preschoolers that we think your kids will LOVE.  These toys are suitable for both boys and girls.
On this page, you find a selection of toys that introduce young ones to different colors, letters, numbers, shapes and more.  Some of these toys also introduce children to stacking and building with wooden blocks to make different structures.  There are also toys that introduce kiddos to different musical instruments.
Read the reviews below to help you decide which toy you think would LOVE best for Christmas.
EverEarth Garden Activity Cube
The EverEarth Garden activity cube is a creative learning activity center with six sides of activities to play with, from counting beads, to spinning gears, a magnetic shape sorter, a peg maze, sliding pegs, and spinning shapes.   It also has  fun wire maze on top.  This activity center is great for developing fine motor skills in small children.
This cube is made from rubberwood and painted with water color based paints.   This cube is not only non-toxic and kid safe, but it is also environmentally friendly.  PERFECT and safe for babies and toddlers to explore and play with. 
Kids Play City Blocks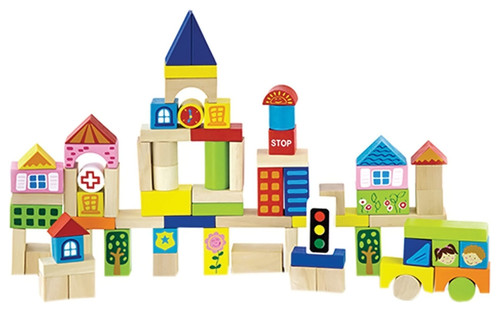 Kids Play City Blocks feature 75 wooden blocks that are natural, painted & printed by hand.  This block set comes with a retail packaged cardboard barrel with carrying handle.  This toy is suitable for ages 2 years plus for both boys and girls.
Parents and grandparents agree that these blocks are VERY colorful and your toddler will enjoy stacking and building different structures with them.   They are also great for sorting according to various shapes.
Fisher-Price Classic Infant Trio Gift Set
This Infant Trio Gift set features a Rock-a-Stack with five colorful rings to sort & stack.  Learning to stack the rings from the biggest to the smallest teaches children the concept of different sizes.  This set also features Babys First Blocks with 10 colorful blocks to sort, stack & drop.  These blocks like offer put & take play, as well as stacking, sorting and matching to help baby develop problem-solving skills.
Grasping & sorting also helps baby develop finger & hand dexterity while placing blocks through the correct shape and then taking them out again.  Also helps strengthen eye-hand coordination.
This set also features a FUN Classic Xylophone that has string & wheels for pull-along fun, encouraging walkers to take and make music wherever they go!  Tapping the keys encourages fine motor skill development and eye-hand coordination.
This Fisher-Price Classic Infant set introduces children to music creative thinking, shapes and colors, large motor skills and memory skills.
The recommended age for this gift set is 18 months and up.
Laugh & Learn Fisher-Price Laugh and Learn Smart Stages Sis
The Fisher Price Laugh & Learn Smart Stages Sis is a soft, cuddly and lovable pup for small children.   This cuddly friend can grow with your little one from birth to toddlerhood.  Introduces children to 75+ songs, sounds, tunes & phrases!
This toys introduces children to different body parts, colors, letter, numbers, and more.  It encourages thinking skills in baby as he or she finds their own ears, tummy and heart. Plus, as your little one discovers that their touch makes Sis speak and sing, they see that their actions can make fun things happen (aka cause and effect)!   Sis teaches over 100 first words and says over 75 songs, sounds and phrases in a FUN and simple way simply by pressing a paw or ear. 
The buttons on the hand and feet are also easy for small hands to press which is an added bonus.
==>> Check Price & Read Parent Reviews Here >>
Manhattan Toy® Create & Play Pattern Blocks
Let your child build and create with the Manhattan Toy Create & Play Pattern Blocks.  These set includes 32 wooden blocks that are painted with a non toxic finish making them safe for kids.   This fun set features a variety of shapes and sizes that can be stacked in an unlimited number of ways.  This is a great way to encourage interactive play by allowing children to build and be creative with the many pieces in this pattern block set.
These blocks are 100% wood and can be hand washed.
7-Piece Band-In-A-Box Toy Set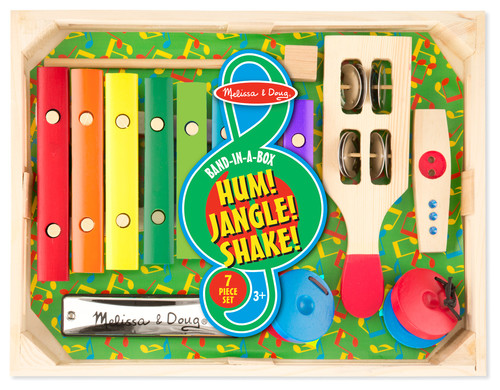 This 7-piece band-in-a-box toy set features a xylophone, a kazoo, castanets, a harmonica and a jingle stick in a wooden crate! Ideal for involving preschoolers in the musical experience.  Various instruments will provide your child with a variety of sounds to feel the beat and dance to.
The variety of instruments in this set introduces children to music so they can explore a range of different sounds as they play each instrument.  It also gives them exposure to things like rhythm, melody, and dynamics.
This musical set is designed for preschoolers and up.
Another gift idea that is sure to be a BIG hit with kids is a balance scooter bike.
Toddler Janod Mint Balance Scooter Bike
The Mint Balance Scooter Bike by Janod is modeled after a retro motor scooter, and is great for teaching small children how to balance and steer long before they graduate to a big kids' bike.  Balance bikes teaches young children how to balance and coordinate without having to worry about peddling.
This wooden bike is very durable and the seat is adjustable to accommodate your child as he or she grows.  Balance bikes eliminate the need for training wheels down the road as children learn how to balance and gain confidence with time.
Melissa and Doug Kids' Nesting & Sorting Garages & Cars Toy
There are LOTS of ways to play and learn with this versatile Sorting Garages & Cars' learning set!  The seven graduated garages (all decorated with objects to count and colors to match) can be arranged to make a colorful town, or stacked to make a tower tall with learning opportunities.  Then nest them for neat and easy storage!
Each garage matches one of seven stackable cars by size, color and number, opening up endless opportunities for stacking, counting, hide-and-seek, mix-and-match and imaginative play.
This set comes with seven numbered garages and seven numbered cars.  This toy is recommended for children ages 2 years and up.
Save
Save
Save
Save
Save
Save
Save
Save
Save
Save
Save
Save
Save
Save
Save
Save
Save
Save
Save
Save
Save
Save
Save
Save
Save
Save
Save
Save
Save
Save
Save
Save
Save
Save
Save
Save
Save
Save
Save
Save
Save
Save
Save